Are you looking for a reliable payment service provider and strong partners for your business? Our extensive portfolio and international network are the solution for successful omnichannel commerce. We find the right solution for brands, dealers and technology partners – regardless of the industry.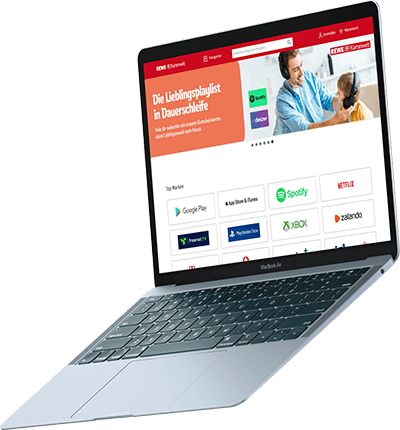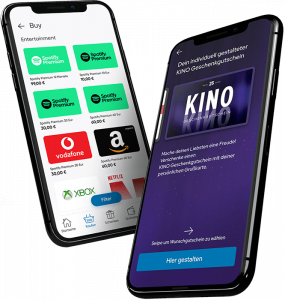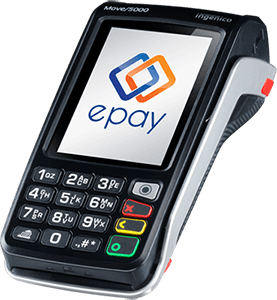 One platform for all possibilities
Consumers love choice – on the shelf, at the checkout, in apps and web stores. Offer your customers the payment experience they ask for, a coordinated portfolio of voucher cards, proprietary payment solutions and promote customer and employee motivation through exciting incentives & rewards. Secure more sales and tap into new customer groups. We make it possible.
The extensive portfolio of solutions, products and services as well as the international network are the growth drivers for multi-channel retail, companies and service providers and convinces through customer loyalty, customer acquisition and smooth payment experiences in real time.
Your success is our success
Increase your sales through our strong network
Over 1.000 brand partners from a wide range of sectors
Technically directly integrated in 80% of all sales offices
Available in 220,000

shops

Connected to more than 300

sales partners

With top retailers from 12

retail categories

Online distribution on over 30 banking and
e-commerce sites
With us you optimize the payment journey for your customers on every channel
With us you discover new sales channels & ways to the customer. It doesn't matter whether they shop in-store, online or mobile. We are constantly working on innovations for every touchpoint and provide you with holistic support.
Prepaid & Branded Payments
We are the experts for your industry
Discover our omnichannel solutions for your industry. You do not find yourself in the overview? No problem, just contact us!
Digital Entertainment
We bring your products and services to the stores, web stores and apps of the largest retailers. Our network now includes over 339,000 commerce partners and over 762,000 points of sale worldwide. Thanks to our expertise with the content of our brand partners, the retail sector and the purchasing behavior of customers, we will also find the perfect solution for you and provide you with holistic support.
Retail
We work with you to design the optimal customer journey for you and your customers. We are your independent partner for payment processes, generate your next revenue stream with a prominently placed gift card portfolio tailored to your needs, equip your customers and employees with their own means of payment, and ensure loyal customers and happy employees with our incentive & reward solutions. Get ready for tomorrow's consumer behavior. We support you in this.
Mobile provider
We are experienced and partner with a wide range of mobile providers and mobile network operators, working with them on global and local initiatives. We bring your mobile prepaid products to market - from SIM cards to top-up credit.
FinTechs & banking
FinTechs & banks can procure classic payment terminals through us and act as commercial network operators. In addition, we offer so-called value added services in the form of prepaid products, which can be sold via ATMs or online banking systems. We are your payment service provider for all your needs.
E-Commerce & marketplaces
We implement integrated store systems including secure payment processing on your behalf so that customers can easily purchase physical cards and digital vouchers online. A wide selection of almost all common payment methods is available. In your name and look, we place your content within the most popular marketplaces - which means only one connection for you. We bring your content and your products to the digital customers.
Distributors
We offer a wide and high quality range of prepaid products from the most popular areas: Lifestyle & Shopping, Gaming & Social Network, Music & Entertainment, Software, Prepaid Mobile, Prepaid Credit Card, Sports & Events. We are partners of the world's strongest content and mobile providers and will find the perfect portfolio for you.
We produce. We perform. We promote.
Our competent marketing team supports you in all aspects of sales promotion, depending on your needs.
This ranges from the development and implementation of a marketing concept tailored to the customer to the design services of advertising material.
Campaign planning
POS Promotion
Social Media Campaigns
Offline Promotion
Guerilla Marketing
On Pack Promotions
One provider – all from a single source
Benefit from epay as a leading payment service provider and all solutions related to electronic payment transactions.
Your access
To the world's largest digital commerce network.​
Full service
All relevant services from a single source.
Your independent partner
Access to all payment methods and solutions.
Highest security.
From PCI-DSS to ISO/IEC 27001 –
VISA-PIN Security Audit and Fraud Prevention .
Become part of our international partner network