Europe's market leader for prepaid solutions
Gift & prepaid cards are so much more than payment options. They are considerable revenue boosters and at the same time unbeatable tools for marketing & customer service.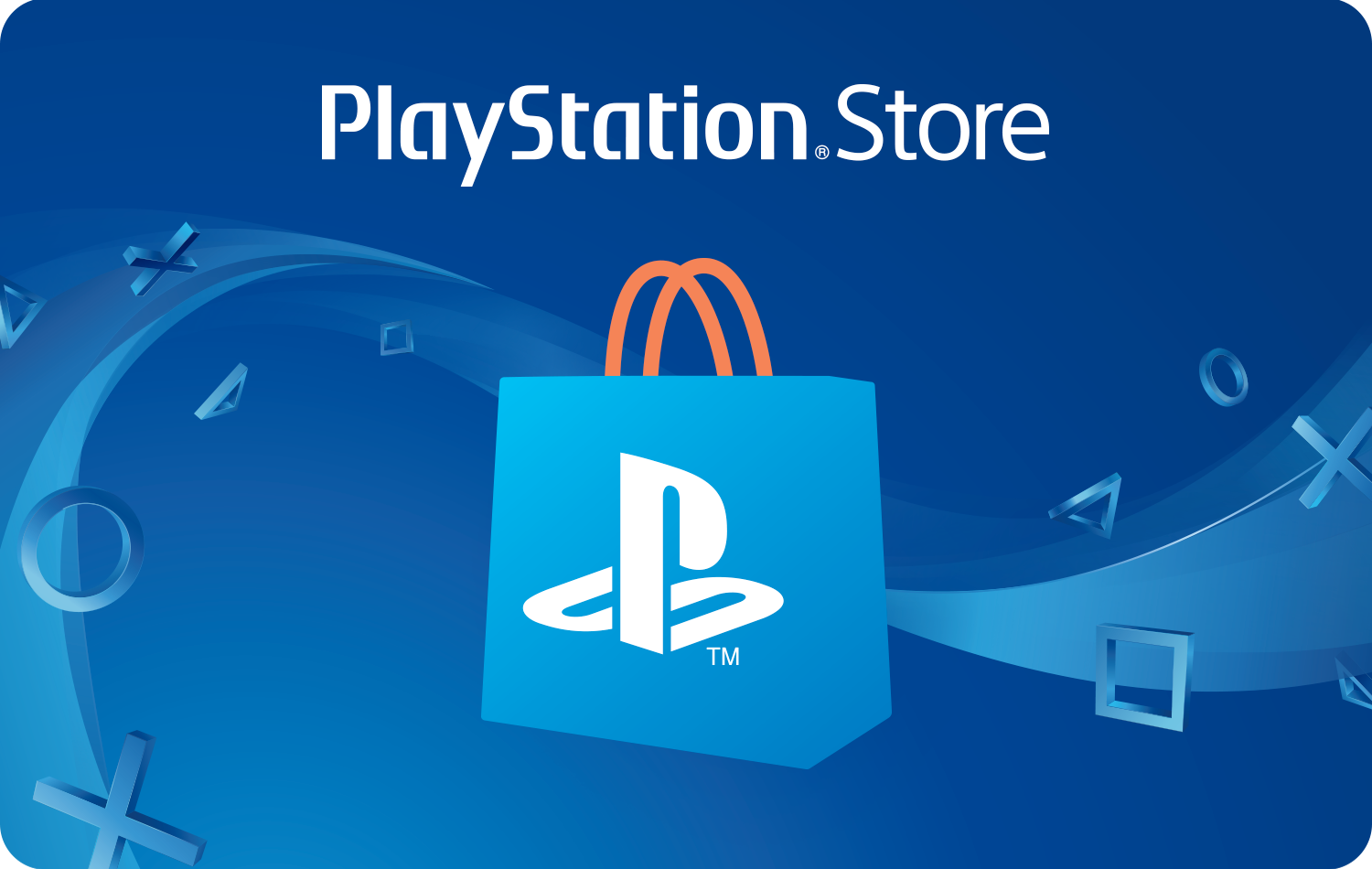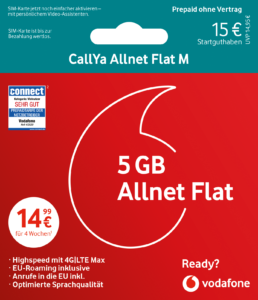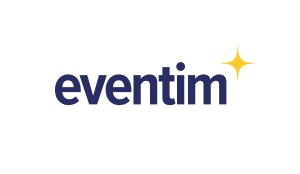 Get your individual credit to get started.
Offer your customers full cost control and easy payment processing, whether with voucher, gift or prepaid cards. Together with you, we develop seamlessly integrated prepaid solutions incl. production, card logistics and intelligent category management.
Lifestyle & Shopping

Gaming & Social Network

Music & Entertainment

Software

Prepaid Mobile

Prepaid credit card

Sports & Events
Find the perfect look from head to toe from over 2,000 brands!
Browse the world of Amazon and find exactly what you're looking for in its wide range of products
With an Eventim voucher, you have access to over 200,000 events such as musicals, concerts, theater or sporting events.
Discover millions of Andorid apps, games, music, movies, series, books and magazines on Google Play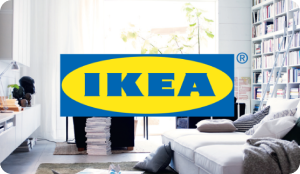 How about a little decoration or a whole new interior with IKEA?
Store worldwide in store or online and discover the latest trends for kids & adults.
With Microsoft coupons, you have a choice: from Office and Windows to Xbox.
Start your own series marathon with your Netflix voucher. Bring cinema to your home!
Sportiness meets aesthetics and becomes high quality products that accompany whole generations.
Dive into the Nintendo world and get the latest games for each console.
Top up your credit easily and simply online. You can do. o2
Start your gaming adventure. Find the latest games for your console on PlayStation Store.
How about a living room concert just for you? Decide for yourself between 50 million songs, podcasts and playlists.
Steam is the ultimate platform for gaming, discussion and game development.
Top up your Vodafone credit now and stay in touch.
Something for every taste. With "Wunschgutschein" you can choose from over 500 partners.
Experience the best in games and entertainment at Xbox.
Fashion, beauty and much more can be found at Zalando.
Take advantage of our long-standing partnerships with over 1,000 brands, including some of the world's most popular brands.
We offer our commerce partners access to the industry's most extensive assortment of gift and credit cards.
No subscription, full cost control
One in four Germans uses a prepaid mobile phone. Maximum flexibility without contractual commitment with full cost control ensures the popularity of prepaid telephony.
We offer retail partners almost the entire portfolio of mobile prepaid products – from SIM cards to top-up credit.
Distribution of phone credit and prepaid SIM of all network providers
100 % availability through on-demand retrieval
No acceptance obligation
Choice of all providers and recharge amounts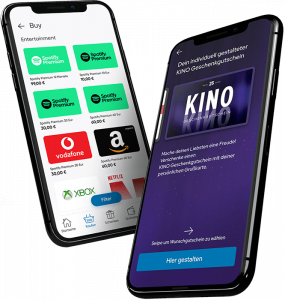 We put voucher cards
perfect in scene
As a category leader, we implement gift and prepaid cards together with you and place them or your existing cards in the largest retail chains, both at the point-of-sale, online and in connected stores.
We provide you with holistic support: As a category and brand consultant, we achieve maximum attention for your gift and prepaid cards through optimal placement and targeted communication as well as advertising.
For retailers, we offer all brands from A to Z from the most popular categories and put together an individual portfolio including customized furniture – tailored to your clientele. We supply display and POS materials and take care of logistics, fulfillment and promotion.
Performance and distribution across all channels
Reach your existing and new customers on all channels and increase your brand performance.
Motivate and reward your employees with prepaid incentives or make your long-term business partners happy.
We make brands tangible at the POS and an easy, secure payment experience and a popular gift for friends, family and yourself.
Reach your customers integrated in the webshop or on dedicated platforms and benefit as a brand partner from digital sales channels via TOP e-commerce sites of the largest retailers and marketplaces & generate new customers.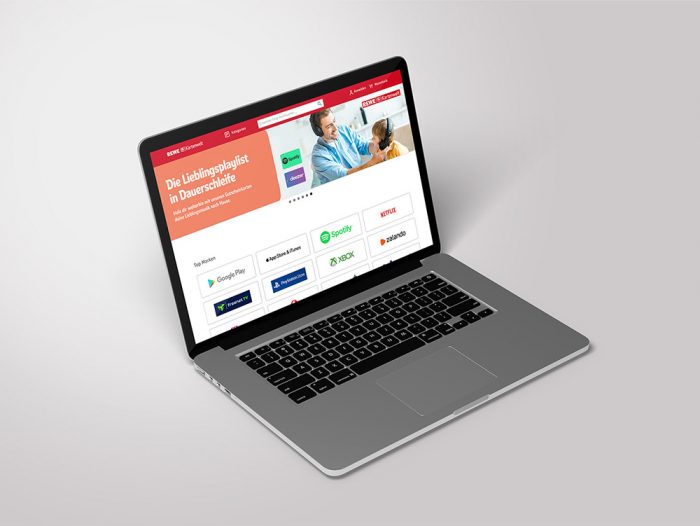 We push your product through app and wallet solutions to get even closer to your target audience.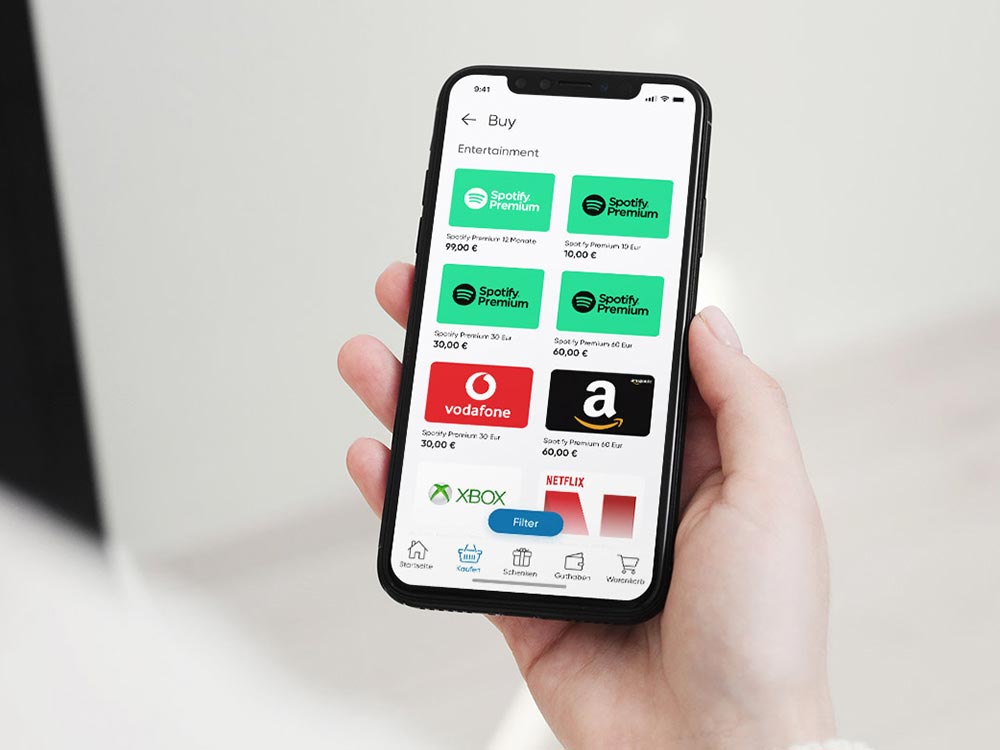 Alternatively, use gift cards as an employee benefit or for long-term business partners.
Make the POS the
Point of Entertainment with our eKiosksystems
Our kiosks help your customers find their desired product using clear images and texts. With filter functions, promotional offers and intuitive tiles, your customer will quickly find the gift card, ticket or voucher they are looking for.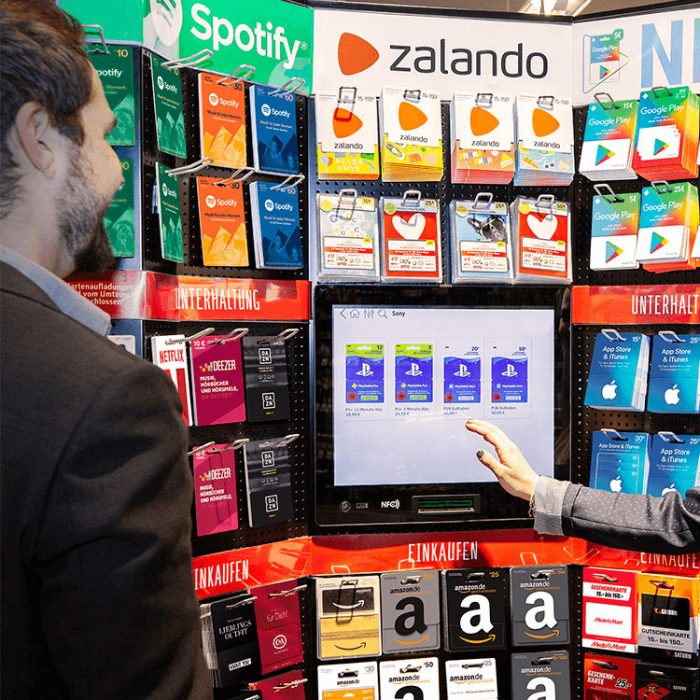 Your Payment Powerhouse
for all demands
In order to offer your customers the most seamless shopping experience possible, you should already rely on innovative technologies of tomorrow today. Increase your sales with our modular service portfolio.
#talktoepay
we drive the payment journey of the future